Software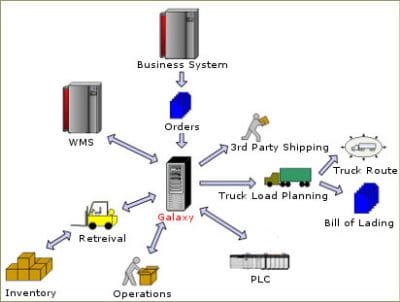 EMIT's Warehouse Control System (WCS), is a software application that directs the real-time activities within warehouses and distribution centers. As the "traffic cop" for the warehouse/distribution center it is responsible for keeping everything running smoothly, maximizing the efficiency of the material handling subsystems and often, the activities of the warehouse associates themselves. It provides a uniform interface to a broad range of material handling equipment such as AS/RS, carousels, conveyor systems, sorters, palletizers, etc.
Warehouse Control System
The primary functions include:
Interfacing to an upper level host system/Warehouse Management System (WMS) and exchanging information required to manage the daily operations of the distribution center
Allocating work to the various material handling sub-systems to balance system activity to complete the requested workload
Providing real-time directives to operators and material handling equipment controllers to accomplish the order fulfillment and product routing requirements
Dynamically assign cartons to divert locations based on defined sortation algorithms or based on routing/order information received from the Host (if applicable)
Generate result data files for reporting and/or upload by the Host system
Operational screens (graphical user interface) and functions to facilitate efficient control and management of the distribution warehouse
Collect statistical data on the operational performance of the system to enable operations personnel to maintain the equipment in peak performance
Live alerts, reporting, and troubleshooting from a separate network location with the all-new WCS Remote Viewer software
Each major function is designed to work as part of an integrated process to effectively link the host systems with the lower level control system, while relieving the Host from the real-time requirements such as operator screens and lower level equipment control interfaces.
Case Studies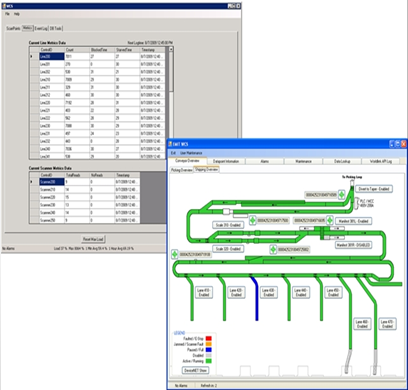 All of the features of our WCS are designed to keep your business flowing smoothly.
The WCS is custom tailored to fit the scope and scale of your material handling system.
Configuration is simple, and running it is as easy as turning it on. No hours-long training courses needed.
The WCS facilitates automated operation of your material handling system, including print-and-apply, weigh-in-motion, sorting, and storage/retrieval for synchronized, high throughput processing.
The WCS interfaces with client systems, databases, APIs, and third party systems to become the beating heart of your warehouse.
The WCS provides real-time metrics and reporting, as well as full data transaction and performance logging for quick and easy reference and diagnostics
The optional WCS dashboard software gives you a complete overview of the system and contains all the tools needed to change settings, diagnose problems, or provide operation cues from anywhere in your facility.